BLS Certification in Sacramento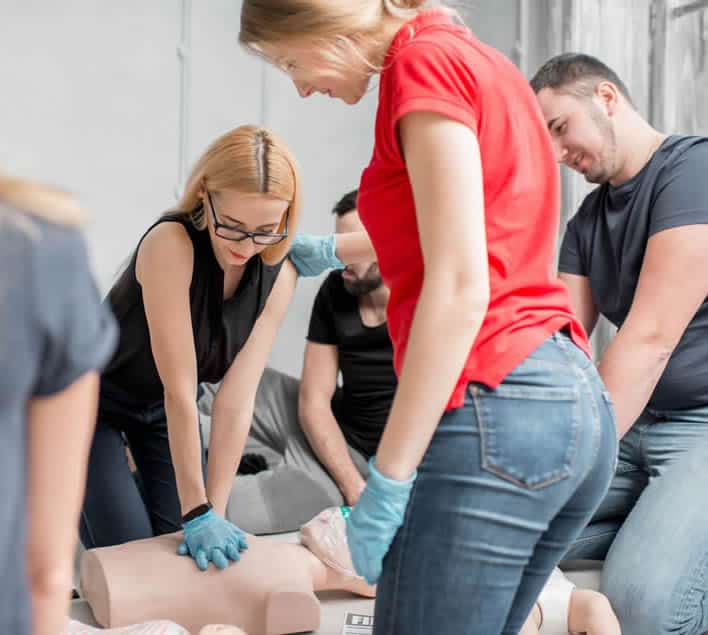 Rescue Training Institute has been providing professional, hands-on CPR training to the Sacramento area since 1990. Our vision then and now is to bring EMTs and paramedics into the classroom to share their skills in Basic Life Support (BLS) to equip ordinary people to save lives. We do this by offering first aid CPR training classes and other BLS certification courses, either at our location or at your workplace in the Sacramento area.
Today, there is an incredible need for quality BLS training for ordinary people in every kind of profession. A majority of our students come to us for CPR, AED, and first aid certifications as part of their workplace requirements. We specialize in training, not only healthcare professionals and emergency personnel but people across the entire spectrum of working life, from sports coaches and lifeguards, to workers in construction and city employees. BLS certification and recertification is a common expectation for working professionals in Sacramento today, and we are here to make your training experience the best it can be.
BLS certification doesn't have to be a pain. The experienced professionals at Rescue Training Institute make the training and certification process easy to understand and enjoyable from beginning to end. Upon completion of each of our classes, students are provided with an official certification. If it isn't your first time going through the training, we provide BLS recertification.
CPR First Aid Certification Classes
The Sacramento area is a diverse community, and that means so are the workplace training needs. Our CPR training classes reach beyond only those working in the emergency or healthcare sphere. We provide specialized PediatricPlus CPR, AED, and first aid classes for those in childcare roles, or for new parents and household members. For nannies and babysitters, we have our specialized Child and Babysitting Safety (CABS) course and our babysitting CPR class. Classes for safety in any workplace environment include our Oxygen Therapy Class, Blood Born Pathogens Class, and Fire Extinguisher Training Class.
For healthcare professionals, we recommend our BLS CPR class or our very popular BLS CPR renewal blended class. To comply with all guidelines for certification in the state of California, each course must be taught by an authorized instructor. A careful evaluation of student competencies is required upon completion of each BLS training course to earn the certification, but don't let that scare you. Rescue Training Institute equips you with the specific information and skills you need to pass with flying colors.
Get CPR Training at Your Work-Place
Or On-Site at Rescue Training Institute
Our team of experienced trainers can come to you to complete any training you require on-site at your workplace location. Bear in mind, some classes are only offered on location at our facility, while others are only offered off location at your workplace in the Sacrament area. (Our BLS certification and BLS recertification courses are available both on location or at your workplace).
On top of our classes, Rescue Training Institute is a certified retailer of first aid equipment for the workplace or at home. We offer AEDs as well as workplace AED wall cabinets, protective equipment such as gloves and masks, first aid supplies, and other specialty CPR and first aid equipment. Browse our online shop or call us to inquire about a product.
Search for classes available near you
Schedule training at your location or at our CRP classroom in Folsom CA. We can train any of our classes at your location in the Sacramento or Roseville area, adapted to meet your needs!