BLS Certification in Roseville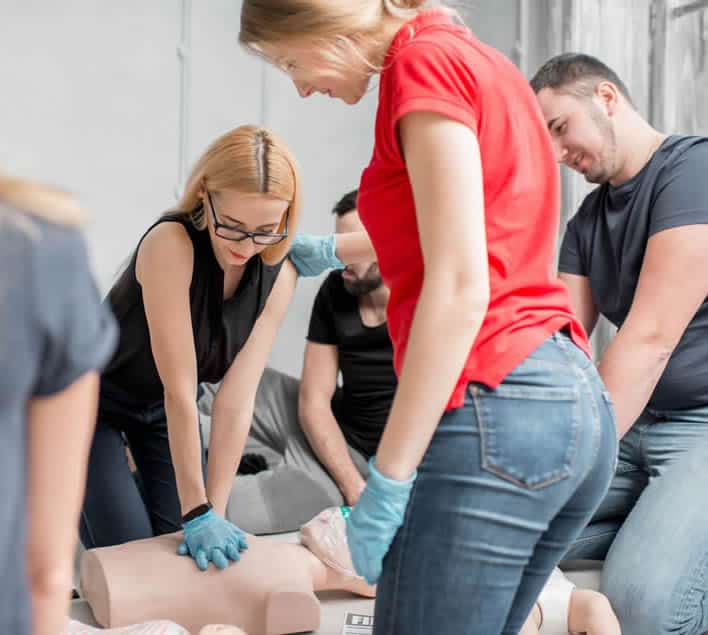 The Roseville area has recently seen an increase in the need for quality BLS training for workplace professionals across the board. Many organizations require employees to have an up-to-date BLS certification or to attend an approved first aid CPR class as a step in the onboarding process. Whether it's for your job or simply to be prepared to save a life in the event of an emergency, the experienced professionals at Rescue Training Institute are here to make your CPR training experience positive and unforgettable.
We provide the full range of Basic Life Support (BLS) and first aid CPR training for healthcare providers and ordinary working individuals alike. Each of our CPR and first aid training classes are constructed to align with the requirements of the American Heart Association (AHA), OSHA, CDC, Medic First Aid, CDPH, and the American Safety and Health Institute. Rescue Training Institute has been a fixture in the Roseville area since 1990, proudly equipping working professionals with the skills they need to save lives.
Our CPR Classes And Expert Instructors
Rescue Training Institute is a mobile operation, offering classes on-location at our facility or off-location at your workplace in the Roseville area. Our CPR class structures are hands-on, comprehensive, and easy to follow. Upon completion of each of our classes, students are provided with an official certification. If it is not your first time going through the training, we provide BLS recertification.All of our classes are taught by professional rescuers, EMTs, and paramedics with years of experience. A thorough assessment of student skills is required upon fulfillment of each BLS training course in order to earn the certification. But don't worry, we prepare our students with the exact information and skills they need to ace every course. We take what we do seriously. Our vision is to see ordinary people equipped with the knowledge and skills to save lives at home and in the workplace. To browse our on-location or at-workplace CPR classes, visit our classes catalog.
Besides classes, Rescue Training Institute is a certified retailer of first aid equipment for the workplace or at home. We offer AEDs as well as workplace AED wall cabinets, protective equipment such as gloves and masks, first aid supplies, and other specialty CPR and first aid equipment. Browse our online shop or call us to inquire about a product.
Search for classes available near you
Schedule training at your location or at our CRP classroom in Folsom CA. We can train any of our classes at your location in the Sacramento or Roseville area, adapted to meet your needs!